By the time you read this I expect the mild weather of November will be behind us and the real Winter will be with us. Last Winter had some exceptionally cold weather and this caught a few boat owners out so there are some lessons to be learned for a trouble free Winter for your boat.
The first and most important thing if you are leaving the boat afloat is to turn off all seacocks below the waterline, otherwise if we get a cold spell the water in the pipes may freeze and burst the pipes. This problem may not reveal itself until the thaw sets in and the vessel floods resulting in very expensive damage to the interior.
Routine maintenance should, of course, include Winterizing the engine in accordance with the manufacturer's instructions to ensure the cooling water cannot freeze and damage the block.
Equally it is important to drain down any domestic water system that is in danger of freezing and bursting, as again we saw claims arising last Winter from failure to do this.
Previously in 2011 we mentioned that some insurers do not fully cover for gradual incursion of water into a vessel and so it would be worth checking your policy wording to see what cover you have. Even if you have this cover, as Yachtmaster policyholders will in most circumstances, it is still important to follow the guidance for safe Wintering to avoid a lot of unnecessary hassle and, of course, to keep claims costs down which helps to keep premiums down, which is an advantage to all policyholders.
Earlier in 2011 we also mentioned how important it is to have a professional independent survey carried out prior to the purchase of a second-hand vessel, and also that a survey would be required anyway on older vessels, prior to arranging insurance with any of the quality insurers which some new boat owners find out only too late.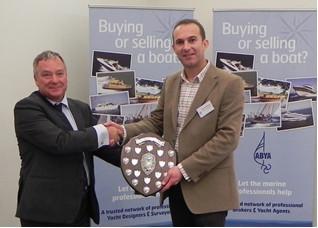 With this in mind Guy Simmons, a director of Yachtmaster, suggested that it would be useful if someone within our organisation attended an intensive surveyor training course in order to offer enhanced technical advice to both Yachtmaster, and indeed its customers. Having suggested it, Guy with over 25 years of experience in the marine environment, and also a commercially endorsed yachtmaster was duly nominated and set off to undertake some intensive training at the International Boatbuilding and Training College in Lowestoft and emerged with a Yacht and Small Craft Surveying Diploma (merit) some while later.
Guy has since set up a totally independent company, GMS Marine Surveys, and is now a full member of British Marine Surveyors Europe and an affiliate member of the Yacht Designers and Surveyors Association. Many surveys later Guy's skill, attention to detail and thorough reports have been appreciated by his customers and now recognised by the YDSA such that he has just been awarded the 2011 Leslie Oliver 'Surveyor of the Year' award by them during this year's AGM held in Bristol. The award is for the most improved or most promising new member of the YDSA.
Clearly this is of benefit to Yachtmaster's customers and you can see that Yachtmaster's slogan "Experience you can trust" is continually being enhanced.
D. Long 9/12/2011
Return to Media Publications & Advice.