Boat surveys and boat insurance are frequently perceived as being closely linked, and with good reason. It seems that each is often regarded by the boat owner as a fairly hefty expense where he only walks away with a piece of paper which is not nearly so attractive as visiting a chandlery, spending the same amount, and coming home with a tangible piece of new gear!
Read more: Anglia Afloat Article #10 August 2011 - The Benefits Of Surveys
The 2011 3 Rivers Race has come and gone and a breezy affair it was! Several of our customer's craft came to grief in one way or another but these are now being dealt with. The Yachtmaster Team didn't race this year due to having become very firmly grounded in Heigham Sound in 2010 and, having established that the Broads Authority hasn't yet dredged this area, we expected the same again.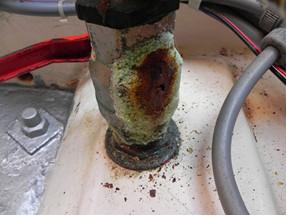 Read more: Anglia Afloat Article #9 June 2011 - Seacocks and Surveys
Spring seems to be here and many owners are busy getting their vessels ready to go back afloat. We are pleased that the freezing Winter conditions are behind us but they have left a few claims in their wake. The vitally important message for Winter is drain down water systems and if the vessel is to stay afloat, close all seacocks while the she is unattended otherwise pipes may freeze and burst and when the thaw sets in, the vessel fills and sinks. A simple precaution can save thousands of pounds!
Read more: Anglia Afloat Article #8 April 2011 - Premium Discounts - At The Cost Of Claim Payments
The main expense concerned with the insurance industry is, as you might expect, paying for repairs etc. following accidents or incidents that are suffered by our customers. The second major expense is the administrative cost of running the service, but over the last 40 years, since I first stepped into an insurance office, technology has progressed to such an extent that these admin. costs are now much reduced as a percentage of the overall cost of insurance, and, indeed, the real cost of insurance has decreased considerably accordingly. It therefore follows that if customers had fewer accidents, the cost of insurance could fall still further.
Read more: Anglia Afloat Article #6 December 2010 - Attempting To Keep Costs Down